Shaft and Coupling Alignments
Marley Flow Control laser shaft and coupling alignment service provides efficient & precise shaft and coupling alignment to all industries. We have experience aligning shafts  as long as 4.5 meters, in confined circumstances making these some of the hardest alignments in the game. This has provided our team with the necessary skills and ability to provide laser alignments on a wide range of items. Contact our team to see if we can assist you with your needs.
Some of our current customers are Bluescope Steel, Orica Australia, CS Energy, Ellis Air, Climatech, Johnson Controls, AG Coombs just to name a few.
Whether it's a long shaft alignment, a set of pulleys, a gearbox or just a simple motor to pump alignment, no job is too big or small for our team to get in done quickly, safely and economically.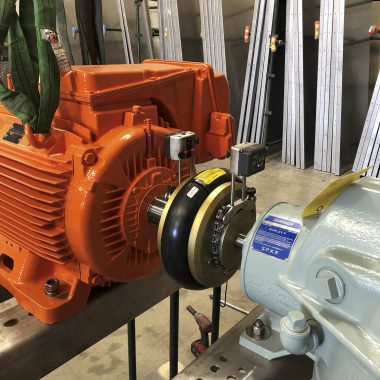 Laser Alignment Preventative Maintenance
Misalignment of shafts and pulleys is the most common cause of equipment breakdown. Causing premature seal and bearing failure, noise and un-wanted vibration. leading to increased maintenance and machine breakdown time which inevitably costing time and money.
To know the exact condition of your equipment its best to maintain a condition monitoring schedule to know why your equipment is failing, prematurely or has excessive vibration. We offer a preventative maintenance programs to insure your equipment is running the best it can.
Sample Report
When carrying out a laser alignment, out team will provide you with a comprehensive report that shows the change in alignment after our service is completed.
View a sample report via the button below.