Cross Flow Kits
Manufactured from UV stable PVC, our cross flow fill pack is designed to hang within the cooling tower on stainless steel tubes.  This design allows for very easy cleaning in situ or easy removal (without any tools) for cleaning externally.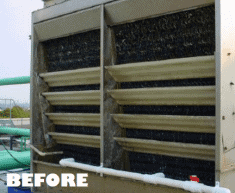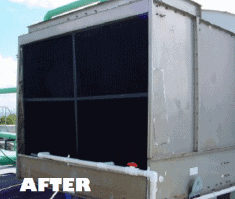 Our cross flow kit enables fill pack blocks, drift deliminator sections and air intake louvers to be replaced individually, unlike many other fill packs available in the market that will require complete replacement.  The end result is continual better performance, no water splash out and no water drifting through the fan.
The cellular drift eliminators are stand alone blocks that are bottom supported.  They maintain their shape and spacing over the life of the tower regardless of water loading or debris ensuring the drift eliminators maintain their efficiency.  In contrast, the built in drift eliminators on hanging fill sheets may gradually deform and lose their uniform spacing allowing drift to increase.  Future replacement of drift eliminators (if necessary) is very easy with our recommended fill replacement methods.
We are specialized in the replacement of fill packs and eliminators in cross flow cooling towers and have experience with all tower brands available in the market.
Fill replacement kits are available to suit towers in the Marley Temcel, Aqua Cool, Tower Thermal, BAC, Linear and Shinwa range.
Our cross flow fill pack is guaranteed to match or exceed the performance of existing fill pack
Industries we service
Marley Flow Control has experience working with nearly all Australian industries that require a cooling tower solution. These industries include:
Power Stations – Coal, gas and geothermal
Chemical Plants – Ammonium nitrate, ammonia fertilizer
Refineries – Petroleum, natural gas
Air Conditioning – Hospitals, shopping centres, universities, data centres, office and apartment blocks and airports
Food – Refrigeration, processing
Plus many more.